Thanks a lot for staying with us, thanks to Engadget for the info and to the Verge for the pictures
@20:54
That's all for today!
@20:54
And he concludes saying how great it feels to be working with Apple, every day, changing things over and over. He is very serious here and we can believe him when looking at what was announced today
@20:53
he is now reviewing all the annoucements of the day, the new Macs, Mountain Lion, and iOS 6
@20:52
and now Tim Cook is back on stage to conclude
@20:51
iOS 6 is compatible with iPhone 3GS and later, iPad 2 and 3 and iPod touch 4
@20:50
a lost mode on the phone: when somebody turns it on, it automatically dials up a pre-determined number
@20:50
with other litle featurtes, like new signatures for pro and personal email accounts
@20:48
Demo is over and it's time for the final overview of all the features
@20:48
Although it is very similar to what google showed last week, it appears to be Apple's own work
@20:47
now it's demo time again with the 3D flyovers and turn by turn navigation
@20:43
It also has a 3D feature built in, very similar to what Google showed last week
@20:43
and Siri can even tell you how much time is left until you arrive
@20:42
it works even when the screen is locked, and it works with Siri
@20:42
it now has turn by turn navigation
@20:41
And now the new Maps app
@20:40
it works with shows, sport games, Starbucks, AmTrack and even United Ailines!
@20:38
New app, Passbook, to get all you passes in one place, you buy them online and they are displayed right on your iPhone
@20:34
new feature: pull to refresh messages
@20:33
it's a new feature in Mail, not sure exaclty what it's for…
@20:32
and anew sharing feature, through which you choose the pictures you want to share, with whome you want to share them and just send them over the cloud
@20:31
Next is Photo Stream, with a few improvements, full screen in landscape mode
@20:30
Next up, Safari. It has a new reading list feature, that will download and cache any page you want so you can read it later even if you're offline
@20:29
you can now provide a cell phone number with your Apple ID and answer on your iPad through Facetime
@20:28
Next up, Facetime, and it's coming over cellular networks! AT&T must be thrilled…
@20:28
You can also ignore calls, send a message back, etc.
@20:27
one of them is 'do not disturb': it will prevent people from calling you, will block notifications, nothing will happen on the phone so you don't get disturbed
@20:26
Now new features on the phone part: there are new call buttons
@20:25
And it will be integrated with your contacts as well… not sure it's wise to open your contact list to facebook like that
@20:24
and you can even talk to post things on facebook, be careful to lock your screen otherwise everything you say will be on Facebook
@20:23
Next, Facebook integration, just like Twitter last year but for Facebook
Great we can now use "like" tag on the Apple Store…  such a great achievement and key feature
@20:23
And Siri is now available for the new iPad, but unfortunately not the older models
@20:22
And there are additional languages with some more subtle ones such as special English and French for Canada
@20:21
And it's also working with cars, BMW, GM, Jaguar, Audi, Honda, Toyota, etc.
@20:19
And Siri can also apparently launch apps, but we'll see if it can launch all apps or just a few selected ones
@20:17
You can also ask about movies and watch the trailer directly
@20:17
Now the usual: 'Find a great place for dinner'
@20:16
So now you can ask Siri about sportsmen
@20:15
And during the demo we saw a new Maps icon on the iPhone!
@20:15
Siri can now talk about sport
@20:13
and it's already time for a demo
@20:13
it has 200 new features starting with Siri!
@20:13
and now it's time to show iOS 6
@20:12
iOS diusplays impressive figures, with 140 Million iMessages sent, 150 billion messages
@20:12
And now we see the comparison between iOS and Android
@20:11
this is by the way really a full keynote, it's been a long time since we last had that many things together!
@20:10
And now the 3rd part of the Keynote: iOS
@20:10
it will be priced at $19.99
@20:10
Now, about the price of the new OS that will be shipping this July
@20:09
most notably for input methods
@20:09
and there are some special features for China
@20:08
but it's still hard to tell what is really new and what was simply adapted from iOS
@20:07
overall there are 200 new features in Mountain Lion
What is really a true feature?
@20:06
another feature: Game center, another app that transferred from iOS
@20:05
it means that the Mac will update itself while it sleeps
@20:04
new feature: powernap
@20:03
And now, Airplay is bult in, for music and for video with video miroring up to 1080p
@20:02
And it's demo time again with all the swiping, that we've had for years on the Mac
@20:00
and now even tabs syncronise, you can start browsing on one device and coontinue on another just where you left!
@20:00
history and bookmarks sync over all your iCLoud devices
@19:59
Next up is the new Safari
@19:59
It's not a full Siri, byt that's already something
@19:58
New feature, dictation come to the Mac! it was introduced a few weeks ago on the iPad 3
@19:56
Now one that we were waiting for: libraries in iWork applications that way you can really use iCloud. you start a document on your Mac and it gets synced with your iPad automatically, which was far from the case with Lion
@19:54
it's coming on the Mac too
@19:54
And if you already have an iDevice, you also know Notification center
@19:54
Messages is compatible with iMessage, you can now communicate between a Mac, an iPad, an iPhone and an iPod touch
@19:52
and new applications, Messages (already available in beta version), Reminders and Notes
@19:52
Now we stroll through the new features of Mountain Lion, starting with iCloud
@19:51
(with a go 5 to 6% marketshare
@19:51
And he compares the growth of Mac OS with the one of WIndows 7. Of course, Mac OS is way ahead
@19:50
Craig Federighi is on stage to talk about the new OS
@19:48
On a side note, there was nothing about the Mac mini nor the Mac Pro
@19:48
now we turn away from the hardware: it's time for Mountain Lion
@19:46
And of course, it ships today!
@19:44
@19:44
and we conclude with the specs and the price of this new MacBook Pro:
@19:43
And one more about the display:
@19:42
And now we turn to the software, but not Mountain Lion yet, first Aperture and Final Cut
@19:41
Another new feature: asymmetric fan, which is apparently more quiet
@19:40
Detailing the display and the internal specs with the SSD storage, the i7 CPU, the NVidia Kepler GT 650M graphics with 1 GB of DDR5
@19:39
And now there is a video about this new MacBook Pro
@19:38
@19:37
on the down side, there is no more Ethernet nor Firewire 800, but Thunderbolt adapters, which will be quite pricy
@19:36
and here are the connectors that you get:
@19:34
and it has the same CPU as the other MacBook Pro, core i7 up to 2.7 GHz and up to 16 GB of RAM
@19:34
Now we can see the inside
@19:32
it's all about the display:
@19:32
however, no word about the HDD (SSD), the RAM and whether it is soldered to the mother board, and nothing about the CPU
@19:31
Now let's see the specs:
Retina Display with an incredible resolution: 2880×1800, 220 ppi
it's just .71 inch thick, and weighs 4.46 lbs
@19:29
It's a lot thinner than the current previous one
@19:28
Here is is! the new Retina MacBook Pro!
@19:27
and there is already a surprise!
@19:27
there is now only the 13″ model with the 15″ model, it looks like the 17″ was dropped
@19:26
@19:26
again some Ivy Bridge chips, up to 2.7 GHz, with 1600 MHz RAM and NVidia Graphics!
@19:25
Now we turn to the MacBook Pro:
@19:23
@19:23
@19:22
The display resolution stays the same, 1366×768 for the 11″ and 1440×900 for the 13″
@19:21
We were waiting for that as well: USB 3.0!
@19:20
@19:20
And things are going fast, we already have the specs of the new MacBook Air:
up to 2GHz dual core i7, up to 8 GH of RAM and up to 512 GB of SSD storage!
@19:19
@19:18
Starting with the MacBook Air
@19:18
And now Phil Schiller is on stage for the notebooks
@19:17
There will also be infor about iOS and OSX
@19:17
and announces an update of the notebook lineup! New MacBook Pro coming!!!
@19:16
he thanks developers for making such great apps
@19:15
Now Tim Cook comes back on stage
@19:14
Now a girl with a speech impediment, using the iPad to communicate
@19:13
now there is some more chatting with developers saying how great Apple is: 'Apple makes it so easy for designers like us to strech our imagination'
@19:11
Now a video about how iDevices can help blind people (and this time it's not Steve Wonder)
@19:10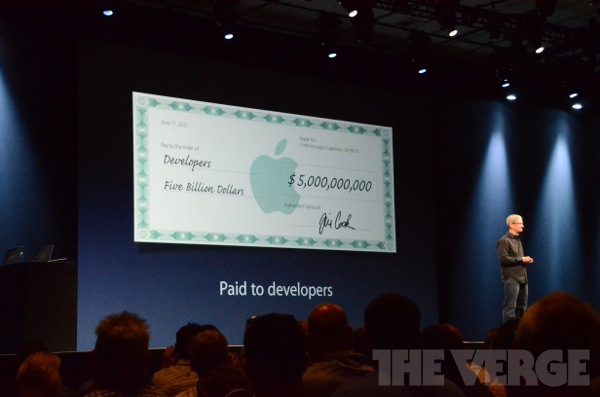 @19:09
And another figure: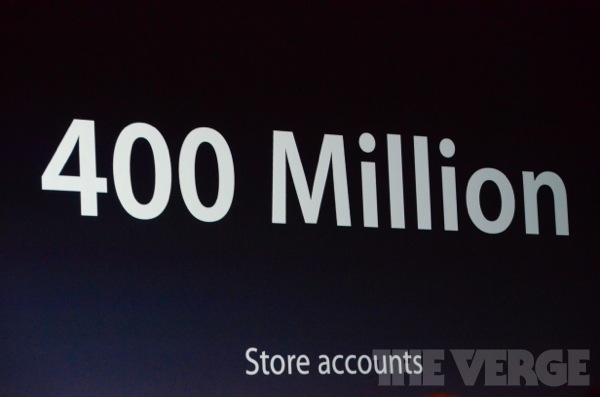 @19:09
The 155 Stores are spread in 32 countries, not a bad expansion in 10 years of time!
@19:08
There are nowe 650,000 apps on the Store, 225,000 specifically for iPad, 30 billion apps have been downloaded, and $5 billion have been paid to the developpers.
@19:06
Now Tim Cook is giving us the usual update about Apple, the new Stores that opened, the many many billions of apps an songs downloaded over the past few months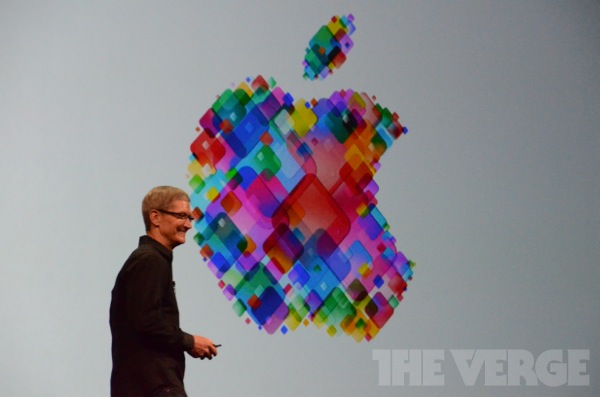 @19:05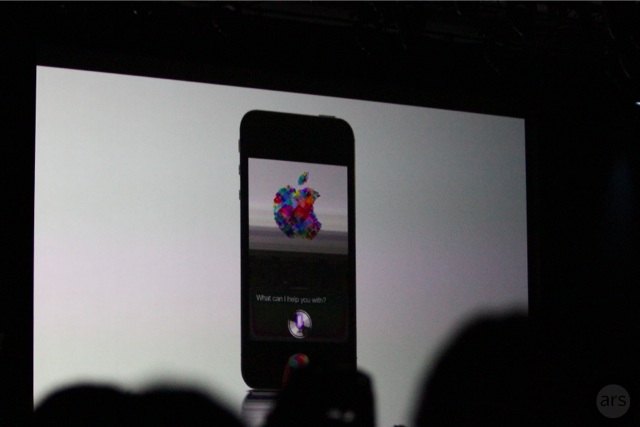 @19:04
The Keynote opened with Siri making jokes: 'I'm seriously excited about the new Samsung, not the phone, the refrigerator!'
@19:03
And Tim Cook is on stage!
@19:01
The music has stopped, here comes the Keynote!
@19:00
And here are some pretty good looking devices on stage!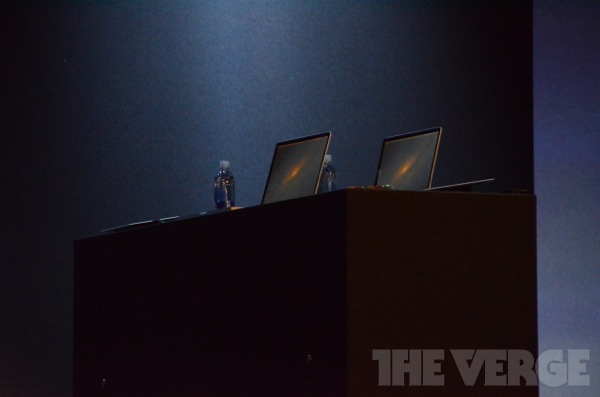 @18:57
Coldplay is now playing over the speakers, as it is Apple's tradition to start all keynotes with music
@18:56
Devices now have to be turned to silent mode, the Keynote is about to start!
@18:54
As a reminder, the Apple Store is still closed, it wil reopen after the keynote. If you want to buy a new Mac tonight, you can help but by going on the Store with this link
@18:52
The Keybote is about to begin, people are now taking their seats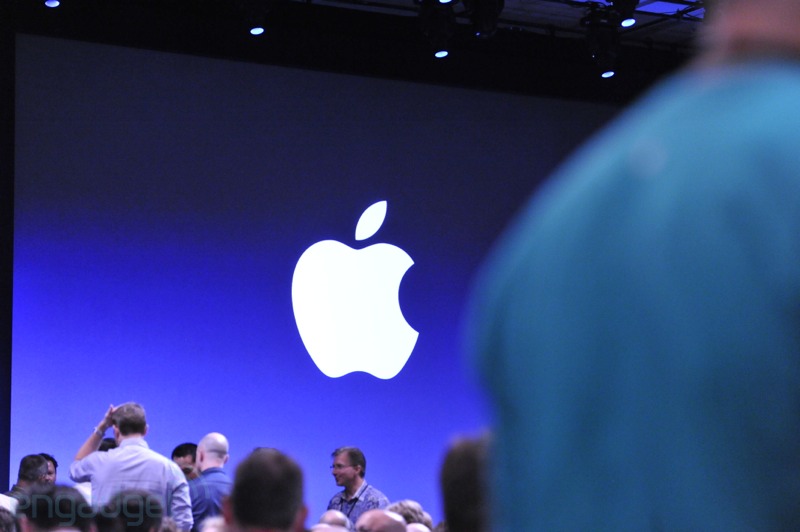 @18:11
Hello everyone, 50 minutes to go until the beginning of the keynote!