According to Digitimes, NVidia could launch in December a new high-end graphic card model, aka GeForce GTX 580, and should offer 20% more performance than the current GF 480. Based on the new GF110 GPU, it should serve as the basis to compete with the current and succesful AMD Radeon 5xxx and 6xxx.
This information has been officially confirmed by mistake by NVidia on its website in a document, quickly removed but spotted by some readers: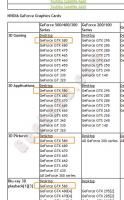 Si cette concurrence a du bon, il nous faut hélas bien trop de temps pour en voir les bénéfices sur nos Mac.